Weight Loss Journey - How to Start Keto Lifestyle
08/22/18 | Dana LaRieal Morales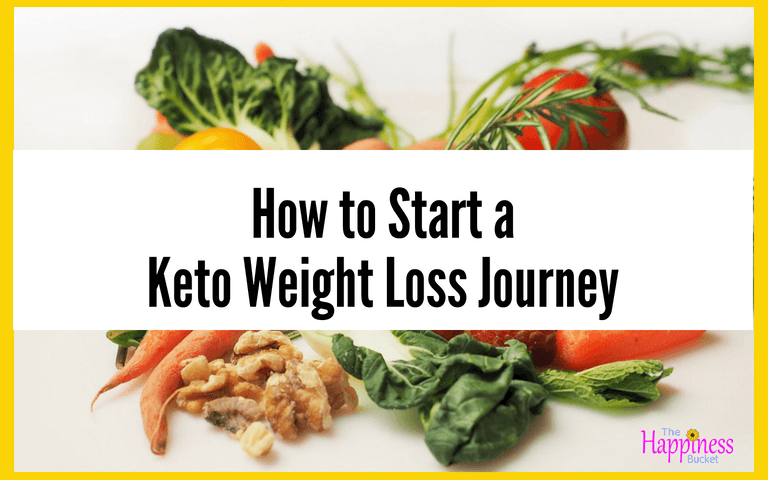 Starting any journey can be a very stressful and scary thing. First, you are changing a pattern or process that you have known for a while. You also may not know what to expect and that in itself can be extremely disconcerting. This is mainly because change isn't easy and you are really focusing on making changes in your life, not anyone else's. You aren't dependent on anyone but yourself to make these changes happen which means you can't blame someone else for your success or failure. It's all on you. So I am going to talk to you about how to start a weight loss journey, specifically how I began my ketogenic lifestyle weightloss journey.
Yes, you can plan to go on a journey with someone else, but in the end it is all reliant on your willpower and drive to succeed. That is scary and refreshing at the same time right?
Well, as you guys know I am on my very own weight loss journey and I decided to share it with you so you can see that I don't just teach you to do these things I am doing and living by everything I share with you. You can follow my journey by connecting on my Instagram account Truth Story of Dana or by connecting on my coaching facebook page.
This isn't my first run at a weight loss journey, in fact...back in 2010 I inadvertently began one while I was training for the half marathon. My goal at the time was to complete the half marathon by any means necessary, but a bonus benefit of focusing on that goal was that I lost weight and went from a size 20 to a size 14/16. I was amazed at how easy it was, because I didn't change my eating habits I just trained...and truth be told, I didn't even train like I was supposed to, but that's a story for another day.
After that, I got married and subsequently got pregnant, but only gained 20 lbs with my pregnancy. I salsa danced up until I was 7 months, so I'm sure that helped keep some of the weight off. After the birth of little bit I lost what I had gained and a little more because I was breastfeeding...I was the same size I had been in college. Then...(deep breath) I discovered vanilla oreos!!!! yes (shaking my head), I not only discovered them I was devouring them on a regular basis!!!! Looking back it was a crying shame how many of those little cookies I ate in a week. Lets just say I was woofing down a family pack every week to week and a half! Between that and me no longer salsa dancing the weight began to pile on and five years later I weighed my heaviest at 275!!!
I remember the day I stepped on that scale and saw that number it was devastating! Now, understand I knew before that day I needed to do something. I was uncomfortable and just didn't feel attractive. My clothes weren't fitting right and I knew I either had to lose weight or go up another size. Ultimately, that was the straw that broke the camels back and I knew I had to kick it into gear and make a change. I needed to be about it and not just talk about it.
My Mindset Stage
As you guys know I teach about the five stages of organizing, and one of the most important steps is the mindset stage. The entire four to six months before I bit the bullet I was getting inspiration and affirmations from people around me.
[Inspiration #1] A long-time acquaintance and Change Academy Member (and his wife) posted pictures of their amazing weight loss journey. [Inspiration #2] One of my Alum (and Change Academy Member) had a health scare and began watching his diet and exercising and [Inspiration #3] my co-worker and friend (and his wife) began his ketogenic lifestyle and I was able to see his 100 lb weight loss in person.
Inspirations are around every corner, you just have to open your eyes to see them.
I realized that I was teaching you how to live a faithful life and take action on your change journey and I wasn't doing that when it came to my health. It was time to make a change and for accountability purposes I decided I would share it with you.
My Ketogenic Lifestyle
So if you have been following my Instagram account or our Facebook page you know that I have been sharing most of my meals and lessons with you in the form of posts and videos. Well now Walter Thompson and I have opened Club Keto to provide instructions and help for those beginning their Ketogenic lifestyle, because it can get overwhelming and confusing.
I am participating in dirty keto, which means I focus on my net carb intake and although I keep an eye on the other macros I don't stress on them and I don't worry about the ingredients in what I'm eating. As long as I maintain my carb counts I'm good.
[caption id="attachment_7413" align="alignright" width="300"]
One month on ketogenic weigh loss journey. Photo on the right is from May, but didn't start journey until June 28th. The swelling in my face is down and you can really see it in my chin area.[/caption]
I started my journey on June 28, 2018. I started actually as a test and just never stopped because I saw the weight falling off within the first four days and my cognitive function and energy levels were so high that I didn't want to stop. As of August 20, 2018, I had lost 18 lbs and 2.7 inches (actually more inches but I didn't measure until I'd been on three weeks). My jeans can be taken off without unbuttoning or unzipping them, my face is even thinner than my first result photo (see image to the right) and as I mentioned my thinking is sharper and my energy level is so much higher. I just feel better and I'm not even near my goal yet.
As of January 2019, I officially reached my goal of getting back in my wedding dress. I went from a size 22 to a size 16.
I share my story as an inspiration to you, because sometimes you need to see that someone else did it...and learn from their wins and their mistakes. Walter and I hold nothing back in Club Keto because I don't think it does any good to paint incomplete stories.
I hope you join us over in the club so you can begin your journey too...and don't worry even if you aren't doing keto and are doing some other weight loss journey, join us over in the Club...we can still support you in what you are doing!