Letting Go of the Memories - What to Do with Your Wedding Dress
07/08/15 | Dana LaRieal Morales
How many times have you pondered about what to do with your wedding dress? Do you have dreams as a mom of passing it down to your daughter(s)? Well, if so, you are not alone. There are many women all over the world who have that same dream, but I am here to peak into your world and tell you that unfortunately many of those dreams are just that. I know I know this is supposed to be the happiness bucket and here I am taking a stick pin to your dream bubble! I will apologize for being the bearer of bad news, but I won't apologize for telling you the truth. You see I've been trying to tell you this for a while, times have changed and children are not as sentimental as they once were. This new generation doesn't feel it is as important to keep as much stuff as we once did...well, I should say the "types" of stuff we once did. We are in the electronic age, where paper, furniture and china don't have the same meaning as they did in the 80s and 90s.. I talked a lot about this in my How to Get Rid of Our Parent's Stuff post.
So today, I felt it was important to tackle the one thing that many women still hang on to in hopes that they can pass it on to their daughter...their wedding dress.
An Unintentional Hijacker
I know personally, I cringe when I hear a woman saying she is going to save her wedding dress for her daughter. Here is why..when I was planning my wedding I had a vision of what I wanted it to look like and although my mother's dress I'm sure was lovely, that was not the vision I had in mind. Not to mention, I was nowhere near the same size that my mother was 40+ years prior. Lucky for me it was never an expectation that I would wear her dress, in fact, it had long since disappeared.

How to Preserve the Memories
What I want you to think about is what you can do to preserve the memory and pass down a touching thought, instead of putting your daughter in that awkward position of trying to live her dream and yours. One of the easiest and quickest ways is to just cut a piece of the inner hem or give her your veil...instead of holding on to this dream that will ultimately add pressure to your daughter while she is planning her special day.
Now, some of you may say that I sound cynical or non-sentimental, but honestly I am not. I loved my wedding dress and am on a journey right now to fit back in it so I can get the photos of me in it that I want. Once I get that, the dress is going bye-bye. I may even take a picture in it with a pose showing my daughter looking up at me just as a keepsake of what I hope she will have at some point in her life, but after that...it is going away...because I don't plan to wear it again, so there is absolutely no reason to keep it. I think it is more about your desires and dreams for your daughter...and that is okay, but let's keep the dress out of it (smile).
What Should I do with my wedding dress?
There are a number of things that you can do with your wedding dress, lets explore a few options:
Sell It
Although you can find some gorgeous inexpensive wedding dresses, most aren't cheap. One option you have is to try to recoup a little money from your special memory by selling it. You can take it to a consignment store or sell it on varagesale or any other online selling platform. I'd suggest you look for a wedding site that has a resale forum like WeddingBee. Nothing like going to where your buyer is online right. Be prepared, you will more than likely NOT get the price or even half of the price of what you paid. I'd also recommend that you do a little research to see if the dress is still available and if so what is it going for, so you can price under that. If it isn't for sale anymore, is it still in style...if not, that needs to be factored into the price. I would also suggest that you wait until around August, October or March. The main reason is because the most common wedding months are May and October, not to mention Prom time and Halloween (think killer bride costumes).
Donate It
For some of you, it isn't even about the money. Maybe you just know you will never wear it again and you've just been holding on to it. There are a number of great things you can do with your dress that can help someone else. Don't forget to record it for tax purposes too if donating to a non-profit! A win-win in my opinion!
One of my absolute favorites is to donate it to be used for burial dresses for babies who have passed on. Search for The Angel Gown Program
Wish Upon a Wedding donates dresses to brides with terminal illnesses.
Brides Across America - Donates dresses to those serving our country.
Depending on the style of your dress you could donate it to a prom dress program, which provides dresses to the less fortunate so they can attend prom or their quinceanera, a coming of age traditional event in the Latin community for 15 year old girls.
A local theater or movie set may want and need your dress for an upcoming theatrical play or movie. Set designers are always looking for authentic pieces.
See our Resource Library for other donation ideas and organizations
Create Something Else
Who says you can't create something else that is just as special? The possibilities are endless once you start thinking outside the box. Here are a few ideas:
Create Ring Pillows to be used in the wedding of your children (sons and daughters)
Line a flower basket
Make a table runner for the wedding (think cake table or entry table)
Make a shawl for the bride to wear
Dress for your daughter(s) or granddaughter(s)
Make Christening Gowns for children or grandchildren
A quilt made from pieces of your dress
A shadow box or frame with pieces from your dress
Make a doll's dress for your grandchildren (or children depending on their age)
Decorative pillow for your home or your bedroom
Make a Christmas tree skirt or two
Make into a regular dress you can wear today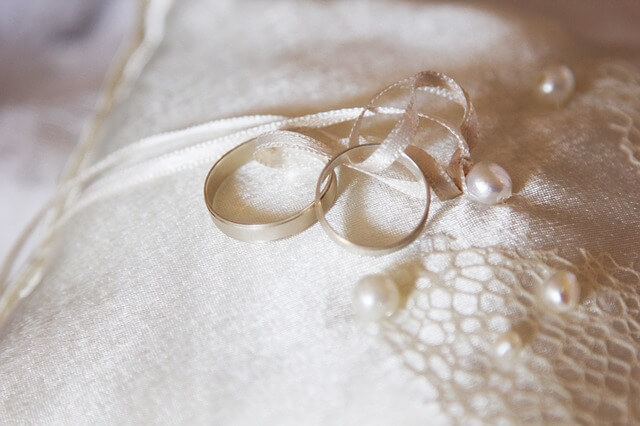 Alternative Memories
Now, I am not naive enough to think that you wouldn't have the question about your memories. Well, one suggestion I have is to keep something from your wedding day like your handkerchief, your jewelry or your veil to pass down to your daughter. In my particular situation, I have and will keep my veil. Now, I don't assume she would necessarily want or need a cathedral veil, but She can always cut a piece off and sew it in her dress, her bouquet or her hairpiece. She may even make it smaller to suit her dress and wedding. Depending on the size of your dress and how easily it is to do this, you could cut a piece of the tulle from under your dress as well. I'd make sure to disclose this to anyone who purchases it from you though. As I mentioned earlier, I plan to take photos in the dress one last time with me and my daughter so I have my own special memories. Now all of this depends on me getting back in it, but if push comes to shove I could stage a scene with it laying on the bed or on a hanger with me and my daughter looking at it or doing something with it. Get creative. There is no rule that says you can't enjoy a moment with your daughter and your dress now! Why wait until her wedding?
Not Ready to Let Go
Now, I'm realistic and I know there are a number of you who just aren't ready to let go of the dream. Hopefully, you will stay with me long enough as a member of The Happiness Bucket network where you will experience a lifestyle change, but until then this is what I suggest:
Make sure you have properly preserved your dress. There is nothing worse than holding on to something for years, for it not to be usable when the time comes. Make sure it is clean and identify whatever needs to happen to ensure it stays in pristine condition.
When your daughter is fifteen or sixteen, have a conversation with her regarding your dress. See if she can see herself wearing it. You can always present this as a conversation in general about weddings. You could have her try on your dress, to see if she has any emotional attachment to it. Maybe seeing her reaction will help you decide if you should continue to keep it or let it go.
Let your daughter help you decide what and how to handle the dress. It may mean more to her knowing she was able to do it with you. That memory will stay with her forever.
When your daughter is old enough go ahead and capture a special image with you, her and your dress. This will allow you to keep that dream of your "little girl".
Now I know this was an emotional realization of what you have been holding on to. I hope you found this information helpful and can begin to address the sentimental things in your life as appropriate. Remember that making these necessary changes in your life now will allow you to live your happiest life possible.
Please make sure you join our network to ensure you receive notices about new posts, live events, challenges and more.